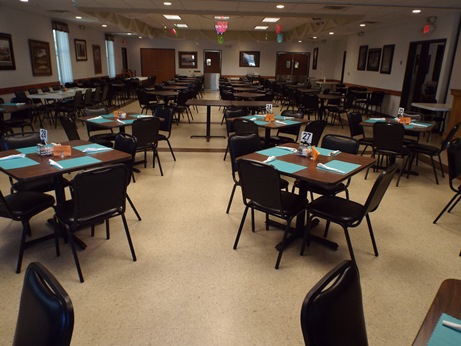 Banquet Dinner Menu Form
Banquet Sandwich Menu
Banquet Hall Rental Contract
All Questions direct to:
Barb Middlestead 715-536-5682 Or Leota Davis 715-536-5431
Request for use of the Eagles Club
MENU CHOICES:
Meat Choices:
Baked Chicken, Pressure Fried Chicken, Turkey, Beef Tips, Ham, Pork Roast, Beef Roast (.75 cents extra per person), Swiss Steak (.75 Cents per person)
Potato Choices:
Mashed Potatoes, Gravy, Parsley Buttered Potatoes, Baked Potatoes w/ Butter & Sour Cream. Cheesy Potatoes, Stuffing with potato choice is .75 cents more per person
Vegetable Choices:
Corn, Peas, Carrots, Green Beans, Peas & Carrots, California Blend, Two Vegetables is .75 Cents extra per person.
Salad Choices:
Lettuce Salad with choice of 2 Dressings, Cole Slaw, Fruit Cocktail Fluff, Relish Trays.
Additional choices available on request including Plated Meals
Dessert: ($1.00 per person extra) Cake, Bars, Ice Cream, Pudding or Cookies. Small plates and forks included
Bill must be paid the day of event unless prior arrangements have been made. All Questions direct to: Barb Middlestead 715-536-5682 Or Leota Davis 715-536-5431
Instructions and charges for use of the hall:
1. Full hall is $250.00, 2/3 Hall $150. Small (1/3) Hall $50.00. A deposit of $50.00 is required for the use of the hall.
2. The Eagles will prepare and serve food for any occasion for a set charge per person. Cakes are allowed to be brought in from licensed Baker.
3. All beer, soda and liquor must be purchased through the Eagles Club. Beer price: $275.00 per ½ Bbl. $7.75 per Pitcher. Soda cost: $3.50 per Pitcher. (5 glasses per pitcher). Rail Liquor: $70.00 per bottle, Call Liquor: $85.00 per Bottle. (includes wash, garnishes and Bartender)
4. You must furnish your own music for your event.
5. If you cancel more than sixty (60) days or more before your event your deposit will be refunded to you.
6. A 15% gratuity will be added to your food bill.
7. Bar Capacity 150, Total Hall Capacity is 200, however it can be divided into two rooms (small room holds 50 and larger room 125).
These conditions are subject to change by action of the Board of Trustees.
Thank you for your Business!